s/y Nine of Cups

The Leeward Islands - St. Martin/Sint Maarten

2002


We arrived on the Dutch side of Sint Maarten
and anchored in Simsonbaai ( Simpson Bay)
right outside of the Simpson Bay Lagoon. We
cleared Customs and Immigration right at the
dock. We don't have a Netherlands Antilles
courtesy flag so we flew the Dutch flag which is
acceptable. Note the Dutch flag looks very
similar to the French flag …not to mention red,
white and blue!

St. Martin/Sint Maarten facts...

One island, two different countries: France, Holland

Capitals:
Marigot (French); Philipsburg (Dutch)

Area:
37 sq miles

Population:
~73,000

High Point:
Pic Paradis (1360')

Languages:
French, Dutch, English

Currency:
Euro, US $

One island, two different countries.

Sint Maarten is Dutch and St. Martin
is French. Here's the totally
undocumented story:
The French and Dutch both wanted
the island, however they were too
civilized to engage in combat over it.
So a Frenchman armed with a bottle
of wine and a Dutchman with a bottle
of gin began walking. Where they
met, became the boundary line and
has remained so since 1648. The
French side (21 square miles) is a bit
larger than the Dutch side (16 square
miles) owing to the fact that the gin
was stronger than the wine!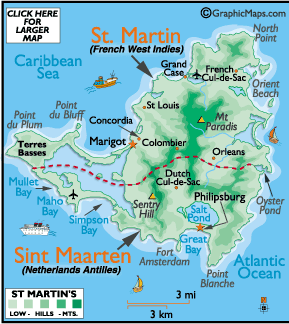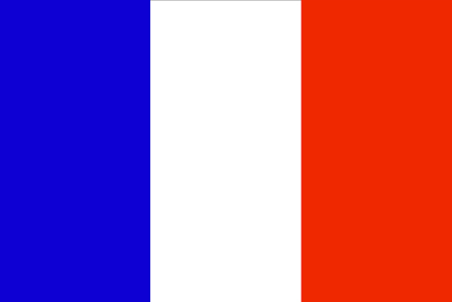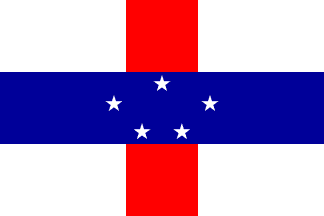 France

Netherlands

St. Martin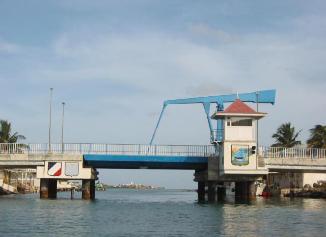 Lift bridge into the Simpson Bay Lagoon opened
only 3 times a day and we were waiting in line for
our turn to pass through the narrow 38' opening.

When going from one side of the island
to the other by boat, you must clear in
and out each time. However, via car or
dinghy or on foot, we can go back and
forth without the hassle so we left our
boat in the Dutch lagoon and traveled
the short distance back and forth in the
dinghy quite easily. All the good food
was on the French side!

Panoramic view of Marina Royale, Marigot Bay, St. Martin French West Indies, a great place for dinner.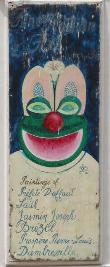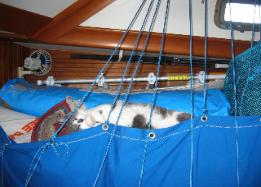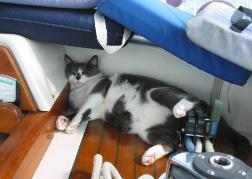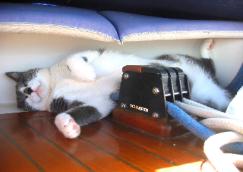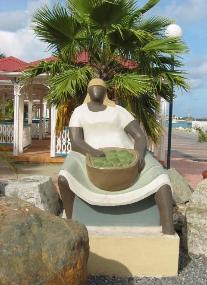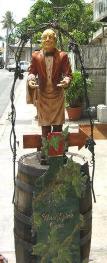 Wandering around Marigot is a feast for the eyes. The
Marigot Marketplace was a riot of colors, sounds and smells.

Guavaberry is a local liqueur which comes in all sorts of
exotic fruit flavors. We tried a sample, but quite honestly
the only comparison that came to mind was: Vicks cough
syrup.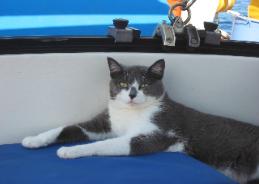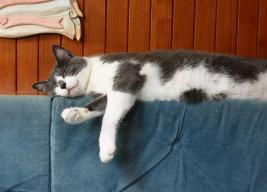 Just in case you were wondering what
Jelly does while we're exploring (and
when we're not exploring)...these photos
will give you some idea. But when she's
not catnapping, she sits pretty and smiles.