s/y Nine of Cups

Fishing En Route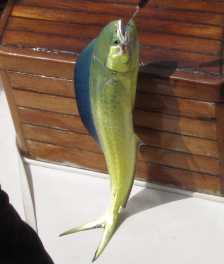 We're pretty much minimalists when it comes to fishing equipment aboard. There's only so
much room and though we depend on the fish we catch as part of our provisioning plan,
we use pretty basic equipment and so far, it's worked quite well.
Click here to read

more
about fishing aboard Nine of Cups.

Once you've landed a fish, you eventually have to cook it. Sometimes, we just fry it up.
Sometimes we grill and other times, we get more imaginative. Here are a few standard
recipes we use aboard.

Mahi mahi aka dorado aka dolphin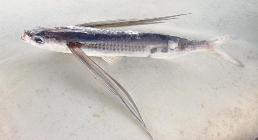 Flying fish get caught in our scuppers all
the time. 23 was the best all-time catch
in one night so far. We've fried them up
for breakfast...not our favorite!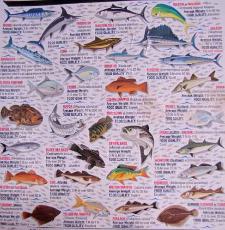 We picked up a two-sided,
laminated fish identifier somewhere
along the way and it's a good quick
reference guide. We also refer to
Bannerot & Bannerot The Cruiser's
Handbook of Fishing on occasion.