s/y Nine of Cups

Venezuela

November 2002 - January 2003

We arrived in Puerto la Cruz on Monday,
November 25, 2002, just in time to be hauled
out at AquaVi Marina, make plans to celebrate
Thanksgiving and obviously buy a new flag! Our
initial impressions of Venezuela are so positive.
What we've seen of this country has been
stunningly beautiful. What we've experienced has
been a warm, hospitable people, more than
happy to help, accommodate and interact with us.

Time now to haul the boat for its annual
maintenance and repairs. Also time to plan to our
inland Venezuelan travel as the country has much
to offer beyond its coast and we don't want to
miss a thing! So ends another chapter!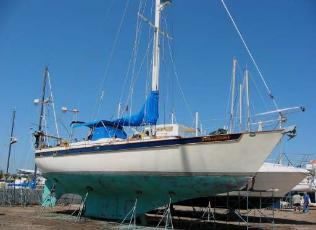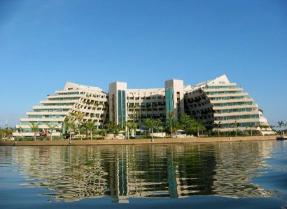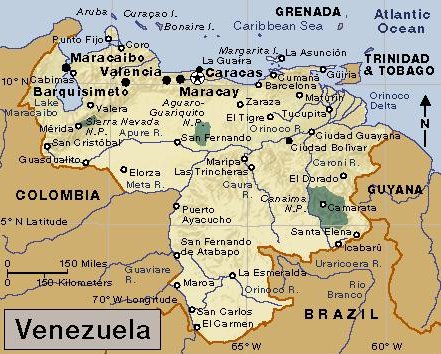 Venezuelan Facts:


Capital:
Caracas

Land area:
352,143 square miles…
bigger than Texas, but smaller than Alaska

Currency:
the Bolivar (~1400 B's = $1US)

Language:
Spanish

Population:
~20 million

Industry:
A world leader in the production and export of petroleum

Highest point:
Pico Bolivar, 16,411 feet

Venezuelan superlatives:
Lake Maracaibo
, at 5,217 square miles, is the largest lake in South
America

Angel Falls
are the highest waterfalls in the world cascading 3,212
feet into the Churun River.
The
Orinoco River
is the longest river in Venezuela and extends
1284 miles.


Simon Bolivar (1783-1830), born in Caracas,
Venezuela was one of South America's greatest
generals. His victories over the Spaniards won
independence for Bolivia, Colombia, Ecuador, Peru and
Venezuela. He is called "El Liberatador" (the Liberator)
and the George Washington of South America.

Cups always looks "sad" on the hard. Her
dirty bottom is being prepped to be painted
(this time black) and look like new again.
She'll also get some blisters repaired and
her varnish renewed.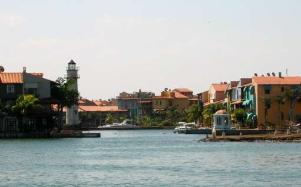 The boatyard/marina we are in (AquaVi) is one
of several in the El Morro complex which is a
vast project. There is a large canal system with
condos and expensive homes along the shores,
resorts, restaurants and many other amenities. On
the canal system, we can dinghy from our marina
to Plaza Mayor and the grocery store and tie up
at their dock....a 30 minute ride. The scenery
along the way is awesome.

The boat next to us was called "Safari"
and Bob the Cockatoo was part of the
crew. On request, he would "show his
wings" for you…Jelly was not
impressed, but did keep an eye on him.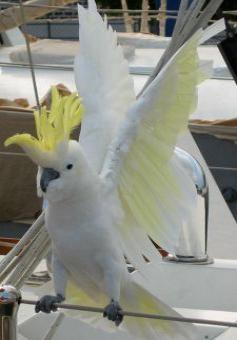 A Daytrip to Barcelona
…The city, founded in 1671,
was named by its Catalan settlers after their hometown
in Spain and is set on the River Neverí. We wandered
through its historic streets, admired the architecture
and enjoyed the pleasant ambiance of the city and its
friendly people.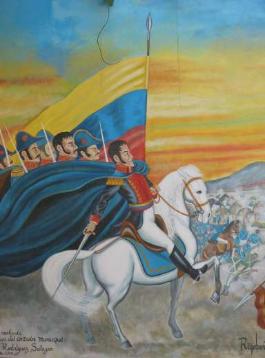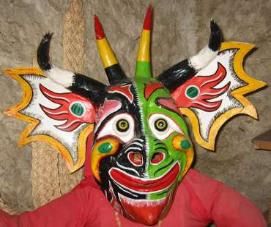 One of the local crafts is mask-making
and these colorful masks are used during
Festival de Los Diablos.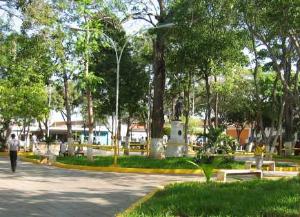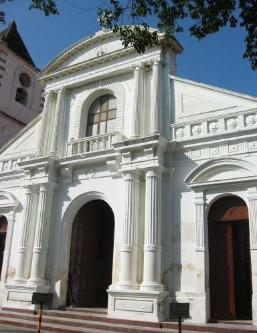 We spent Christmas Eve with 5 other cruising
boats at Isla Paraiso sharing hors d'oeuvres,
music, company and a Yankee Gift Trade.

Plaza Boyaca dominates the center of town.
It's neat and tidy and the cathedral, museum
and most of the shops surround it.

The cathedral, built in 1744, dominates the
east end of the plaza.

The hallaca (eye-aka) is a unique traditional
Venezuela Christmas food …something like a
Mexican tamale. We had a great time making
them at a local marina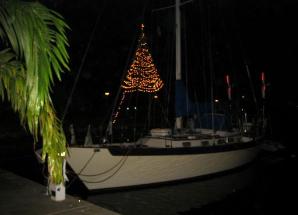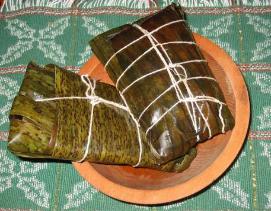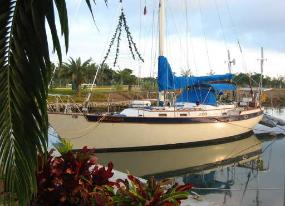 After two weeks on the hard, it was a
pleasure to get back into the water and move
the boat to Isla Paraiso Resort & Marina.
Since it was new and not quite opened yet,
we got a great discounted price.

The odd architectural design of the Isla
Paraiso building gives it the impression that
it's falling into itself.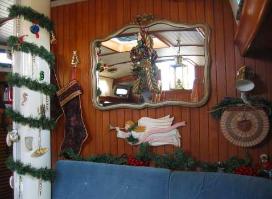 Cups was all decked out...inside and out.

The plan had been to visit as much of inland Venezuela as possible. However, on 2 December 2002, a national strike to oust President Chavez began
and continued beyond our stay in Venezuela. Shortages of fuel, food and beer were most noticeable. The value of the Bolivar plummeted and inland
travel was inadvisable. The U.S. & Canadian Embassies issued traveler's warnings and advised Americans in Venezuela to leave. What a
disappointment to be in such a beautiful country and miss exploring all of its wonder. Maybe next time?


Politics in Venezuela…An excerpt from a letter home…

"The national strike has continued for weeks and things are escalating a bit. The protests are becoming louder and more vehement; stores and banks
are open for only a few hours a day; ATMs are running out of money; petroleum tankers have joined in the strike which means no fuel. We are
advised to stay in the marinas and on our boats. It appears Hector Chavez was elected for a 6 year term and the Venezuelan constitution allows for a
referendum vote of confidence after 3 years…that would be August 2003…but lots of people don't want to wait and he doesn't want to hold a
national vote right now so they are at loggerheads. As President, however, he has a tremendous amount of power including charge of the military and
the National Assembly (the Venezuelan Congress). The "people" indicate they will strike till they get their way and he vows he won't give in.
Hmm…could be trouble in Dodge City. We don't feel threatened at this point so don't worry. Word today indicates the strike will continue."

On 15 January 2003, we set
out for Bonaire via several
Venezuelan island groups. We
anchored first at Chimana
Oeste, then spent nearly a
week at Las Tortuguillas,
never even leaving the boat. It
was good to be away from the
marina and out at anchor
again. On to Los Roques and
Las Aves…spectacular
archipelagos with a charm and
splendor all their own.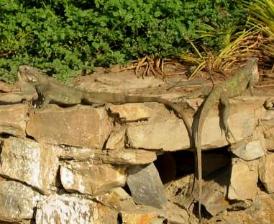 In addition to other cruisers, we had four
iguanas as neighbors.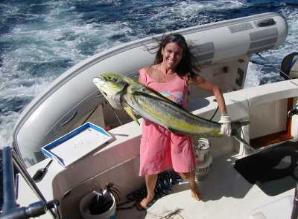 Our friends, Joanne & Ken (m/v "Rusty Bucket"),
met us in Las Tortuguillas. They caught two dorado
on the way and shared part of their magnificent
catch with us. The best of all worlds… they did all
the work and we got to eat fresh dorado. Thank
God for big fish and generous friends.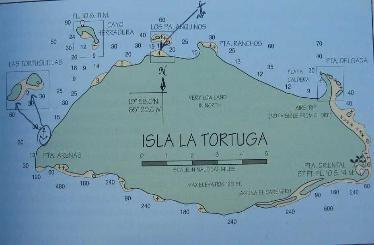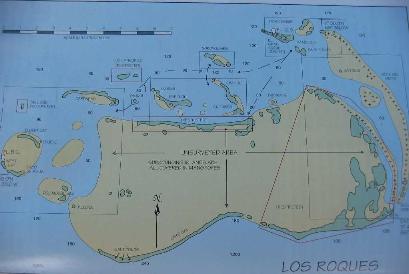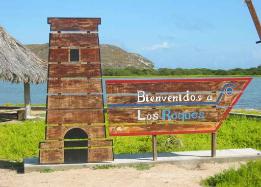 Archipiélago Los Roques is comprised of about 40
islands with names and another 250 unnamed islets,
sandbars and cays. In 1972, it was established as a
Venezuelan National Park. Huge coral reefs and mangrove
islands provide lots of spots to explore and tuck in. The
entrance, marked by a lighthouse, is narrow and the chart
calls for caution in traversing the area. Reading the water,
however, was fairly straightforward with distinct color
variations for deep water (dark blue), reef & coral (brown,
black), sand (white) and shallow (light turquoise).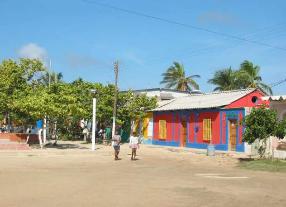 El Gran Roque is the largest settlement in
the Roques with a population of about
1200 people. It is very distinctive on
approach with its large 380' hills. The
Guardia Costa is located here as well as
the Inparques Nacional (National Park
office). Since we are "in transito" to
Bonaire, we were able to stop for a few
days without national checkin.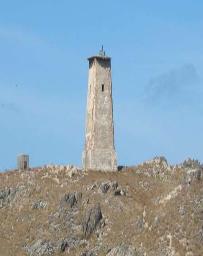 There are three lighthouses on
the island and we trekked up a
well-worn path to the oldest of
the three, simply named "faro
holandés" (Dutch lighthouse).

Gran Roque is a colorful town and very
tourist-oriented with lots of shops and
restaurants lining its sand streets. There are no
vehicles other than golf carts. Electricity is
produced via diesel-driven generators.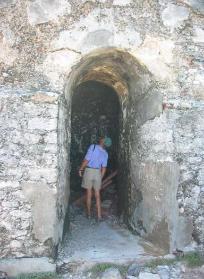 We explored the lighthouse
inside and out.

Though the lighthouse itself wasn't very
picturesque or remarkable, the view from the
top, as anticipated, was stupendous.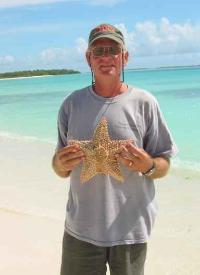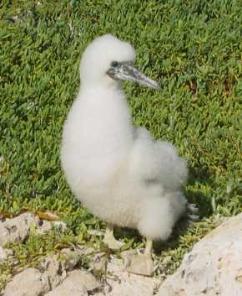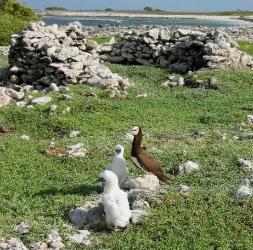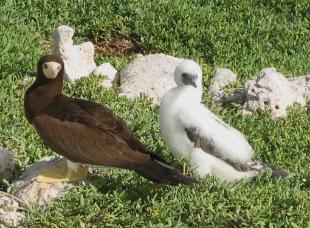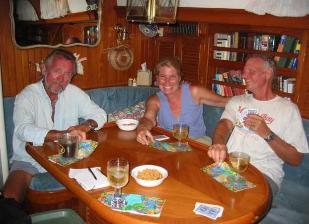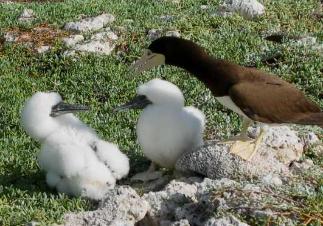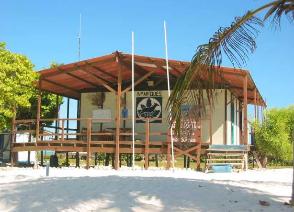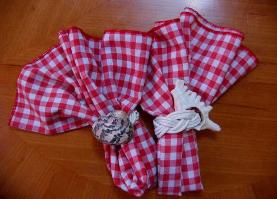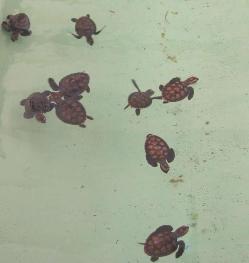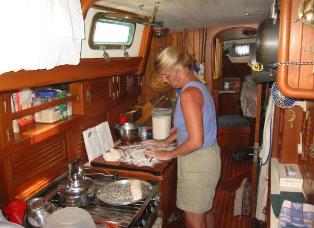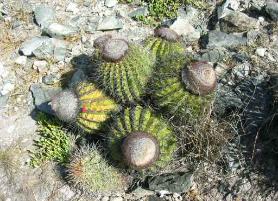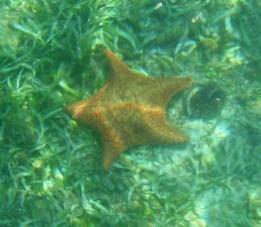 The one David's holding above
washed up on the beach.

As usual, nature abounds even on these
isolated, arid islands. Reportedly there
have been 92 species of birds sighted
here and the only native mammal is a
fish-eating bat. The starfish are huge and
clearly visible under 3-4 feet of clear
aquamarine water.

We island-hopped through the Roques, staying a
day or two at each anchorage. We beachcombed,
collected shells and enjoyed the remoteness and the
natural beauty each little island had to offer. We
had been "loosely" traveling with "Rusty Bucket"
since Las Tortuguillas and shared many anchorages
with them as well as happy hours, dinners and
innumerable games of "Foine", a new card game
Joanne taught us.

Dos Mosquises is also home to the Los Roques
Scientific Foundation which breeds, raises and
protects endangered turtle species and then
releases them around the archipelago. The
Foundation representatives welcomed us and
gave us a brief tour of the facility. The Inparques
office was on stilts and provided lots of good
information about the area's fauna and flora.

There were several tanks with turtles of
various sizes. Those above were about
6 months olds (born in June 2002).
There were some as young as 15 days
and the oldest was about 3 years old.
Turtles live beyond 100 years and the
females don't start laying eggs until
they reach 25-30 years.

We've been "out" for a couple of weeks now so
bread making has become a regular activity on the
boat. Laundry is done by hand every other day and
the clothes hung on the lifelines to dry. The trade
winds provide quick drying as well as all the power
we can use.

Our favorite anchorage in the Roques
was CayoElbert, just northeast of the
Cayo Agua Light. Both islands are
low-lying with lots of white sand and
sand dunes. Most interesting to us was a
booby nesting area where we found
hundreds of fuzzy, white baby boobies
in different stages of development from
eggs, to hatchlings, to fledges learning to
fly. The nests were no more than
depressions in the purslane- covered
ground, lined with twigs and grass.

The booby is any of six large diving birds that live near warm oceans. The name booby comes from the
Spanish word bobo, meaning stupid. Sailors gave boobies this name because the birds would land on
ships and were easy to catch. Boobies are related to the pelicans and gannets. Boobies live in flocks
on remote islands and coastal cliffs. Depending on the species, they nest either on the ground or in trees
and lay from one to four eggs at a time. Boobies grow up to 2 to 3 feet (61 to 91 centimeters) long with
wing spans of more than 5-1/2 feet (168 centimeters).

We never considered them "stupid", but
they certainly weren't timid. This young
one was all alone,but showed no fear
when I approached slowly to take pictures.

Though the birds were neither afraid nor aggressive
towards me, they were certainly territorial towards
each other. "My" little fellow went visiting another
nest and was properly chastised by both the
neighbor baby and Mom.

Here's lookin' at you, kid! The babies appeared
as large or sometimes larger than the parents.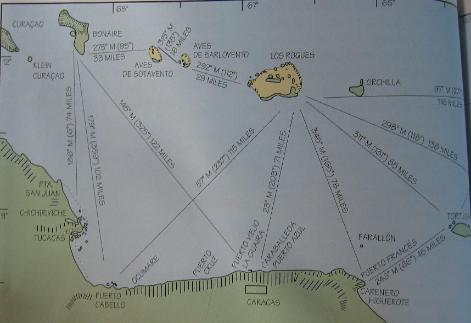 Las Aves (the birds), are two separate little archipelagos of reefs, islands
and islets. The more easterly group is called Aves de Barlovento
(windward) and the westerly group is called Aves de Sotovento (leeward).
Their name comes from the large number and variety of birds that call these
islands home. Though there are no large settlements, there is a Guardacosta
station in Sotovento and fishing camps abound on every little island.

Turks' head cactus midst the nesting birds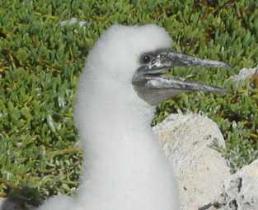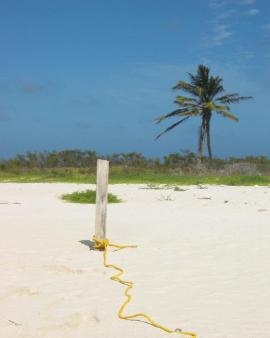 A deserted island, a lone palm, the cry of
gulls, pelicans and boobies, white sand
beaches that go on for miles…this is the
paradise in which we live.

Hanging on the hook didn't prevent us from
having a gala Valentine event. We celebrated
aboard the Rusty Bucket with champagne,
Bloody Marys, card playing and epicurean
delights heretofore unheard of in the Aves. We
made Valentines and Marcie made heart burgees.
David made napkin rings as gifts. Even Jelly got
into the spirit with a fashionable red ribbon.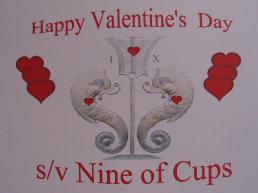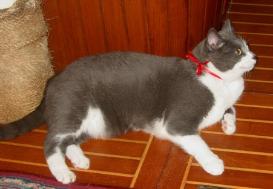 It's obvious we don't need a reason to have
a party, but a full moon presents a good
opportunity. After a daylong windward
shore clean-up of Curricai, we burned all
the trash in a big bonfire and celebrated
February's full moon. We picked up
innumerable bags of trash…mostly plastic
bottles and shoes…finally completing the
cleanup of about one mile of beach. Ken
decided a signpost would be an excellent
way to commemorate the project. He
found a piece of bamboo for the signpost
and then collected driftwood and
proceeded to carve signs. We spent
another afternoon assembling and erecting
the sign with terrific results.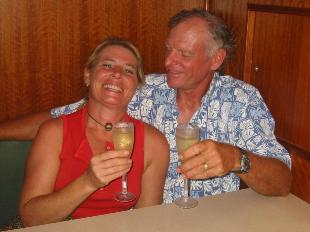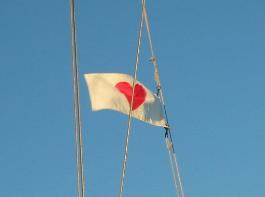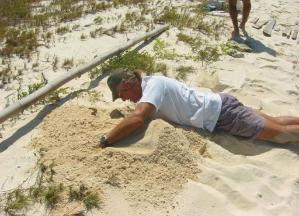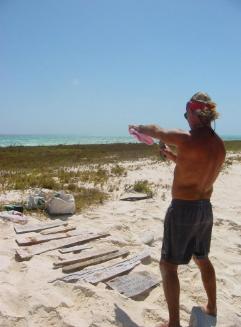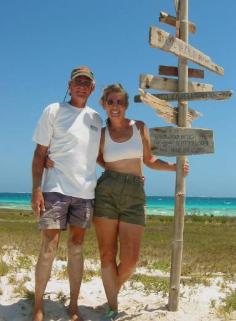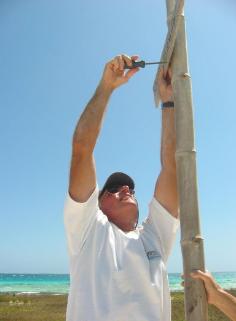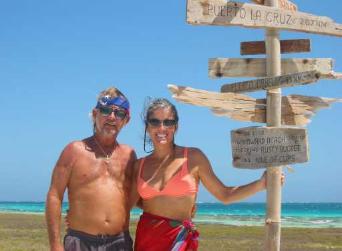 Joanne & Ken "Rusty Bucket" pose with the
"clean-up" sign after the day's work was done.

Perfectionists! Ken took compass
readings to make sure the place signs
were pointing in the right direction.

First, you dig the hole! Ken & David shared
the task. Not many tools available, but a
machete, a plastic scoop and hands did the job.

David, being the tallest, got the job of
screwing the signs onto the post.

In all, we spent nearly a month in the Aves. Finally, a
weather window appeared which allowed us a day of
moderate winds and seas and a wonderful 40 mile
downwind sail to Bonaire. Time to re-enter civilization,
replenish the larder and sample yet another country.

Come with us to Bonaire
.
..guaranteed to be wonderful.