s/y Nine of Cups

The Kingdom of Tonga

2009


Tonga Facts....
Capital:
Nuku'alofa

Population:
~115,000 (est 2006)

Area:
288 sq miles

High point:
Kao, an extinct volcano in the Ha'apai Group (3,380 ft)

Low point:
Pacific Ocean

Language(s):
Tongan, English

Currency:
pa'anga (100 seniti = 1 pa'anga) $TOP1 = US$ 0.47

Time
: +13 GMT

Government:
Constitutional monarchy

Guides:
Lonely Planet Samoa & Tonga
,
Ken's Comprehensive Cruising Guide to
the Kingdom of Tonga &
Moorings'
A Cruising Guide to the Kingdom of
Tonga
were the most useful to us.

The archipelago of Tonga, dubbed the "Friendly Islands" by
Captain James Cook, consists of 169 islands, with only 36
inhabited. There are four main island groups including the
mostly low-lying Tongatapu group, the volcanic and coral
Ha'apai group; the flat coral islands of the Vava'u group, and
the volcanic Niuas group in the far north.

Malo e leilei
is
hello in the
Tongan language.

Tonga is unique among Pacific nations. It never completely
lost its indigenous governance. The archipelagos of "The
Friendly Islands" were united into a Polynesian kingdom in
1845. Tonga became a constitutional monarchy in 1875
and a British protectorate in 1900. It withdrew from the
protectorate and joined the Commonwealth of Nations in
1970. Tonga remains the only monarchy in the Pacific.

Our quick departure from Niue, gave us an early morning start for the short ~248 mile
run to Tonga. Light winds and a greatly reduced (but still intact) mainsail had us arriving
at the back of the pack, but arriving nonetheless. We had lost 24 hours (one day
forward) by crossing the International Dateline which juts east to accommodate all of
Tonga's islands. Check-in was easy and relatively quick at the crowded Quarantine
Dock where we were visited by Customs/Immigration, Health & Quarantine and paid
TOP$123 for entrance fees including a free 30-day visitor's visa.

King George Toupou V

After several rolly anchorages over the past
months, it was so wonderful to pick up a mooring
in a calm, peaceful harbor. We both slept like
babies the first night in Tonga.

Since we were so slow moving with
our mini-main, we were able to take
lots of photos of other boats as they
whizzed past. "Dreamtime" was nice
enough to return the favor.

There are several dinghy docks in town. One
small vessel dock inside a breakwater on the west
side of town near the Customs Dock was the
closest to the fresh market.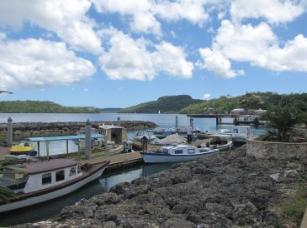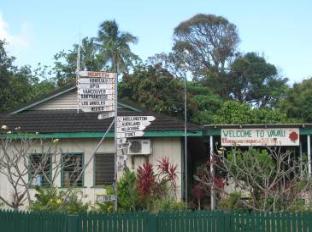 One of our first stops ashore was to the Visitor's
Center of Vava'u. We picked up a few brochures
and got an overview of the town as well as
looking at some local crafts displayed there.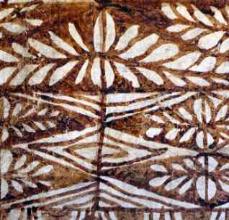 PIG FM was our radio station of choice!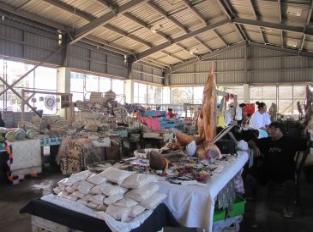 It didn't take us long to find the crafts market. We
were very impressed by the quality and distinctive
nature of Tongan crafts. No Tongan keychains
made in China here. This stuff was the real article.

Tapa cloth has long been an important
part of Tongan culture. It is made by
beating long narrow strips from the
inner bark of the paper Mulberry tree
with a mallet. The sheets are painted
in traditional patterns and designs.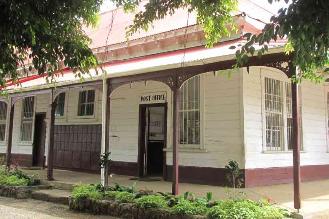 Lots of flowers attracted lots of
beautiful butterflies and dragonflies.

The post office was a pretty, colonial-looking building
with gingerbreading, columns and, oh yeah, stamps!
Post card to the USA...TOP$0.70...quite the bargain.

Neiafu, Vava'u
18S39.76/ 173W58.98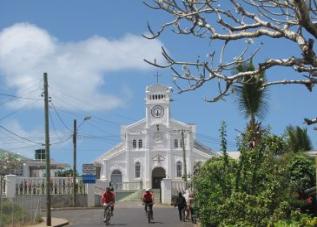 St. Joseph's Catholic Church on the hill above the
town was well-kept and stately. On Sundays, its
bells and harmonious singing can be heard in the
anchorage.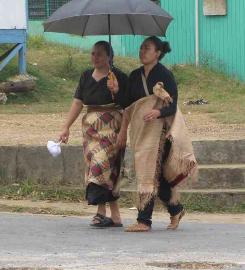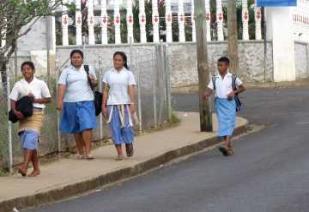 Most Tongans wear their traditional
dress (men & women) which includes a
long wraparound skirt or sarong and a
pandanus waistmat called a
ta'ovala
.

Because of its location just inside the international
dateline, Tonga is the first place in the world to greet
each new day and new year.

According to Lonely Planet, 1806 was the last year
a missionary ended up in a Tongan cooking pot.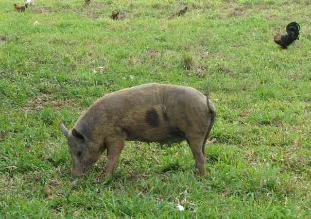 Pigs roam, unfettered, everywhere. We asked how
the pigs return to their rightful owner. They told us
that each pig learns the voice of the person who
feeds it and comes when called.

Above, even the school kids' uniforms are in
keeping with local traditional dress.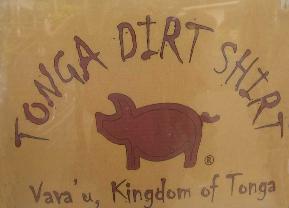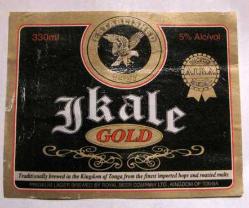 The local beer, Ikale, was quite malty.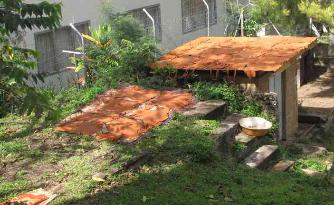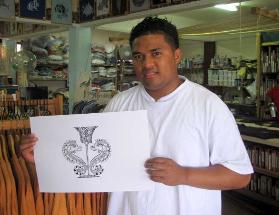 "Dirt shirts" from Tropical Tease are all the
rage in Vava'u.

Dirt shirts, standard white t-shirts soaked in rusty
colored Tongan clay earth, drying in the sun.

Kupesi
is the fine art of Tongan cultural design. It
is very specific to the Tongans and differs from the
kupesi of the Fijians or the Maori. With the
recommendation of Cindy from "Tropical Tease",
we commissioned Viliami Vaenuku to turn the
"Cups" logo into Tongan art. We were thrilled
with the results and ended up having it screen
printed on Tongan "dirt shirts".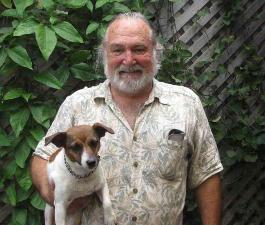 Carvings in ox bone were beautiful in so many
intricate designs, each design representing
something in the Tongan culture such as family to
the left. Above, Nalu who carved this piece.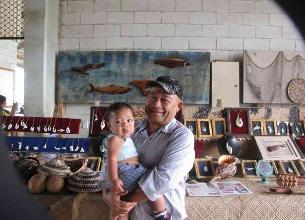 Above, we had the distinct honor to meet Leonati
Fakatava, master carver to the King. We bought
two of his carved bone pieces which were
exquisite. Above, he poses with his grandson.

Baker Hardin is SSCA's Cruising Station
Host in Neiafu. We had a chance to meet
with him and his Jack Russell terrier, Zoe.
Though Zoe nipped at my toes a few times,
Baker was pretty tame and most hospitable.
Very active in the cruising community, Baker
is the "weatherman" for the morning radio net
and produces the
Vava'u Marine Guide

which is given free to cruisers.

Neiafu and its residents have had a tough time
of it this past year. Last December, a fire
ravaged through the old wooden buildings
along the waterfront and totally destroyed eight
buildings...one of which was Baker's office.

In August 2009, an inter-island passenger ferry
headed north from Nuka'alofa sunk losing
more than 60 passengers, mostly women and
children who were below decks, many of
whom were from Neiafu.

Most recently, in October 2009, the huge
tsunami that hit Pago Pago, Samoa also hit the
northernmost Nuias Islands of Tonga and
wiped out 90% of the island. Many of the
people in the Niuas have close relatives in
Neiafu and a huge relief effort was mounted by
both the local community and the cruising
community to send food, clothing and supplies
to those in need.

Gutted buildings along the Neiafu waterfront as a
result of a huge fire last December started by young
boys trying to smoke out bees to get honey.

Matamaka, Vava'u 18S42.46 /174W04.22

A chart supplied by "The Moorings", the
charter boat folks, has detailed descriptions
of the numerous anchorages in Vava'u and
has even numbered them for ease of location.
I might add, the purists hate the numbering
system and prefer the proper names.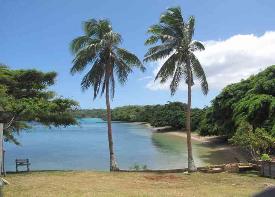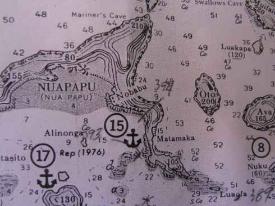 The apostrophe in many of the Tongan names is a
way of converting the spoken Tongan language into
an English readable form. Vava'u is pronounced
Vah-VAH-ooo with a tiny hesitation between the
VAH and the oo.

A view of the little bay at Matamaka taken
on the hill by the village school.

Main Street in the village is only a dirt
footpath. There is no electricity here other
than that provided by individual generators
and solar panels. There is no running water
and no vehicles. Life is simple.

Our wonderful hostess, Fa'aki and two of
her six children, Tani and Latai (sleeping).

Taking photos here was easy. Everyone
asks to be photographed and the subject
matter is beautiful.

We visited the school which was quite modern
thanks to a building grant from the E.U. There are
two teachers. Moses, above, teaches the primary
grades (1-3) and John teaches grades 4-6.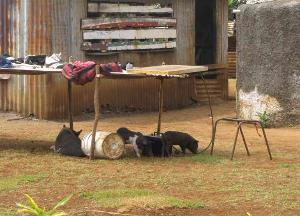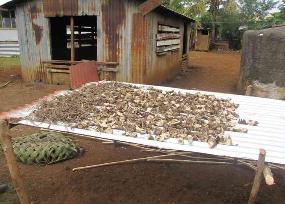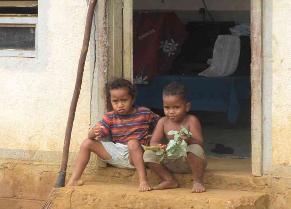 Much of their daily life is spent in chores
revolving around the preparation of pandanus
palm leaves or parts to make tapas or mats.

Weavers above were making a room sized mat
as a gift for an upcoming wedding. They last up
to 20 years according to Fa'aki and will take
these women months to make.

We thought there were lots of pigs in Neiafu.
That was nothing. Pigs and piglets roamed
everywhere here. Part of Tongan wealth is
measured in the number of pigs you own.

Two little kids pose for a tough guy shot...part
of the peanut gallery that snacked while
watching the repairs.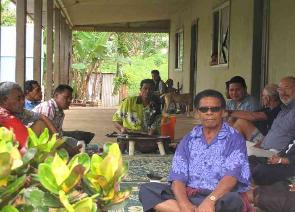 Walking through the village, Fa'aki pointed out
kava drying on a large raised platform.

David fixed a solar panel for Moses, the
teacher, and got an invitation to a kava party.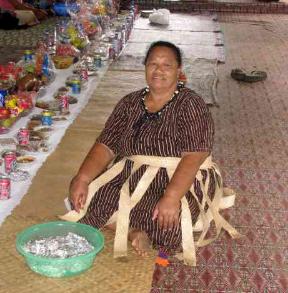 Fa'aki and her husband, Ben, were
celebrating the "graduation" of their oldest
daughter, Roxanne, from primary school and
a feast was being held. At age 11-12, kids
take a scholastic aptitude/achievement test. If
they pass and there's room, they can go on to
high school. If not, so ends their formal public
education career in Tonga.

We were invited to the feast and told we could
bring some friends if we wished. Oh, my! We
invited "Yohelah" and "Gannet" to join us in the
otherwise empty anchorage. While the men drank
lip-numbing kava, the women worked frantically to
put out a huge feast for the village. Above, a friend
of Fa'aki was serving up food. We sat on the floor
on huge mats and ate...and ate...and ate.

Once the villagers learned that David could repair
things like generators and solar panels, he was in
high demand. Rob & John cheerfully volunteered to
work on the repair projects. After the feast, Marcie
did a tarot reading on "Cups". Successful repairs
were in everyone's future!

Well, the men earned their feast! They spent two
very full days ashore making repairs. The final count:
30 solar panels, 4 generators, a telephone, a digital
camera, 2 VCR's, 3 TVs, 1 DVD player, a weed
whacker and who knows what else...lost count.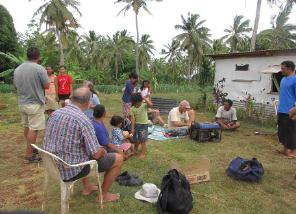 It was a community affair. People were queued
up...someone even brought an inverter via
horseback from the other side of the island.
Word travels fast at kava parties! Everyone
watched intently as the "the doctors" diagnosed
problems. If it was fixable, a collective sigh
went up from the crowd with smiles and thumbs
up signs. If not, "oh well" and they moved on to
the next repair. We were paid in bananas,
lettuce, coconuts and genuine smiles of thanks.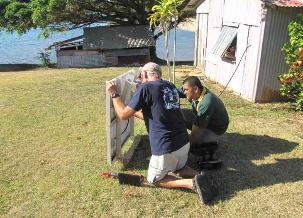 Kava parties are only for men, but we women
had plenty to do.That's the chief facing us.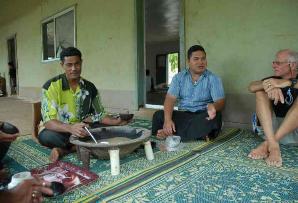 Distributing the kava cups (coconut shells) to the
men. (Rob Sicade photo). David said it tasted like
a weak, bitter tea and numbed his lips and mouth.

The feast for the village included roast piglets,
fish, seafood, vegetables, desserts. Since baked
food is difficult for the villagers (no ovens except
the underground "umus"), we all contributed
baked goods to the feast which were
well-received.

More Tonga?
No problem...just
click for the rest of our journey
through this lovely country.

A white person is referred to as a
palangi
here. Literally
translated, this means
people from the sky
. When Cook first
arrived in Tonga on tallships, the people thought the masts
went up to the sky. Since only white men came off the ship,
the word came into use to mean all white people. It was
common to hear people say "Ask the palangi" or "Give it to
the palangi.". We're told that when Tongans try to scare their
kids, they say the palangis will get them!