s/y Nine of Cups

The Windward Islands - St. Vincent & the Grenadines

2002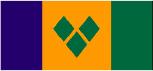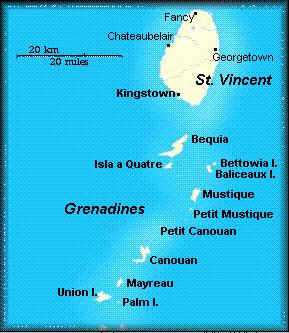 St. Vincent & The Grenadines


Population: ~138,000
Area: 153 square miles including the island of
St. Vincent and about 100 islands
Capital: Kingstown
Language: English
Currency: EC$
Highest point: Mt. Soufriere (4,048 ft)
Major industry: bananas
Member of Eastern Caribbean States
A volcanic eruption in 1979 destroyed a large
amount of the banana crop and agricultural land.

The winds were with us now and each
day is an invigorating sail to the next
island or port. We left around 0600 for
St. Vincent and arrived by 1300…quick
30 miles to our anchorage in
Chateaubelair Harbor.

An overnight stay only and we were
sailing again by 0600 the next day…an
easy 20 miles to the Admiralty Bay
anchorage in Port Elizabeth, Bequia.

"Boat Boys"
…not a derogatory term,
but the name given to the young men who
zoom (or paddle) out to your boat to
greet you as you enter a new harbor.
They offer to help you anchor or moor,
show you around the island, do laundry,
supply fresh fruit, veggies, bread or ice.
Sometimes helpful, sometimes a
nuisance, but ever-present in this part of
the world. Business must be improving as
the last time we were here (1997), most
of them had makeshift wooden boats with
oars and now they all seem to be
equipped with new 25-40HP Yamaha
engines and newly painted dories.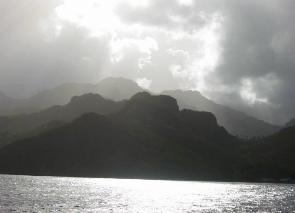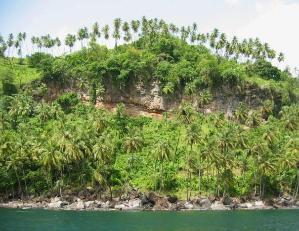 The view from our anchorage in Chateaubelair.
Palm trees and lush foliage in so many shades
and hues of green.

The Grenadines are a group of islands
which are shared by St Vincent and
Grenada. We cleared Customs for St.
Vincent and the Grenadines in Port
Elizabeth, Bequia (Beck-kway).
Customs charges for a privately-owned
45' yacht (charter boats pay more) and
2 people for 7 days: $70EC ($26 U.S.).
A big hike from the $10EC/person we
paid last time we were here. Bequia is
small. Population is about 5,000 people.

Leaving Chateaubelair at dawn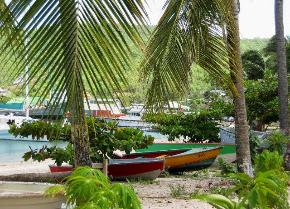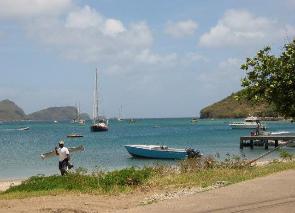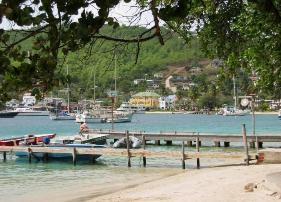 View of the harbour entrance from shore in
Port Elizabeth.

The colors are vivid and eye catching most
anywhere in town.

The starboard wind generator needed repair, but in taking it apart a screw was stripped which David
was unable to extract. Actually, he bought a tool to extract it and it also broke off. We found a place
here in Bequia that could drill it out, then found that the screw was not a standard one and had to have a
new one machined. A $25 screw which was really a bargain. (Remember that rule? Nothing's ever easy
on a boat!!).
Though Bequia is pleasant, moving on is a priority right now. We had planned to put a couple of coats of
varnish on the rails while we were here, but the wind has been so strong (20-25K) the varnish blew off
the brush! (Not being able to varnish did NOT break my heart!) So we decided to stay for 2 days and
leave for the next island in the Grenadines: Canouan… only 20 miles away. We're up at 0545 for the
weather and it's not favorable. We decided to wait for another local report at 0830. Based on this
weather report, (20-25K winds with higher gusts and rain) we stayed in Bequia for another day as the
tropical wave passed through. And in the evening, we heard a hail on the VHF, a friend of ours, Mystic
Adventure, was entering the bay. We stayed yet another day!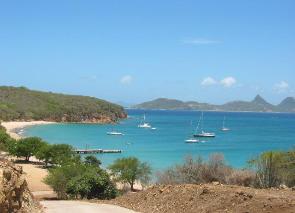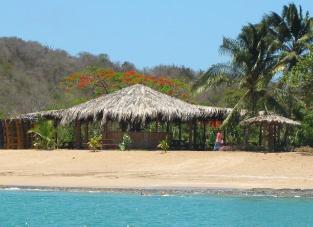 We ended up staying 4 days in Bequia (see
why it takes so long to get anywhere!!!). Our
friends had torn their genoa sail on a passage.
We helped them, in a very stiff wind, to get it
down and to the sail loft for repair. That major
chore called for a breakfast ashore and a day
of "catching up" and playing a new game for
us, Rumicube. We were up at 0530 the next
morning, helped them tie up to a mooring ball
and get the repaired sail back on. No easy feat
in the wind…David ripped off his big toenail
(big ouch!) in the process. They sailed with us
to Canouan and we shared dinner, but never
went ashore. Next day they headed out to
Grenada and we did a quick motor trip to
Mayreau, only 5+ miles away. For insurance
purposes, we are now legal!

Thatch huts line the shore at Saline Bay

Mayreau is an island of about 300 people.
Lovely, friendly and absolutely beautiful.
Above, Saline Bay Anchorage with Union
Island in the background.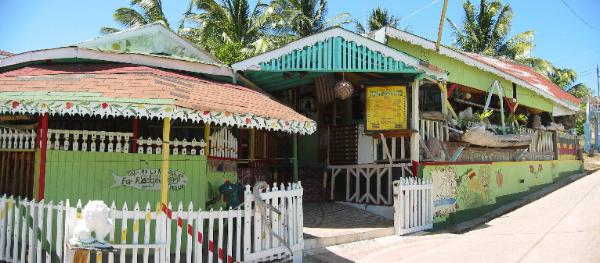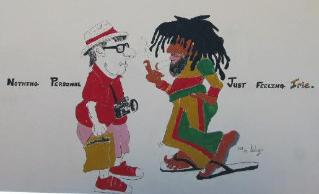 Rastafarian or Rasta
is a cult that originated in
Jamaica and is a Black back-to-Africa movement
devoted to Ethiopia's Haile Selassie (original name
Ras Tafari). They espouse peace, love and ganja
(marijuana) and are noted especially for their
reggae music and dredlocks.

This bar "Righteous and da Youths" belongs to
Robert "Righteous" Lewis, a well-known
Rastafarian. Robert is personable and outgoing
and his bar is a hangout for cruisers and locals alike.


After 4 days aboard of tough varnish work and
not going ashore, we were ready for some big
excitement. So we motored to the other side of
Union Island (5 miles) and the town of Clifton
Harbor. This was a beautiful anchorage midst
several reefs…the water ranging in color from
black to turquoise to emerald green to nearly
clear. Reading the water on such a sunny day
was fairly easy and we managed to not only
avoid the reefs but find a great sandy spot for
anchoring.


A cartoon on a local building...perhaps we tourists
aren't always thought of in the highest regard. Irie
(eye-ree) means no worries, no problems, chill out.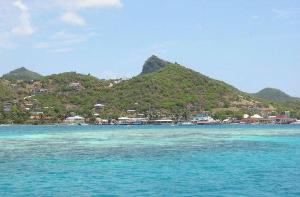 From Mayreau a quick motor trip to Union
Island. We had planned to go to Clifton
Harbour, a larger town with shops and
restaurants, but a fast-moving tropical wave
with predicted heavy rains and wind surges led
us to Chatham Bay on the lee side of the island
and much better protected. The bay was so
pleasant and uncrowded, we stayed for 5 days
and caught up on varnishing and boat chores.
Fishing was good and our infamous hotdog bait
snagged us 2 porgies during our stay. Salami
bait snagged us 1 puffer…3 different times.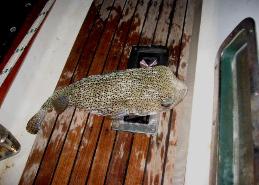 Here's Bob…a puffer fish...inedible. We
caught him 3 times in a row with our salami
bait… we think he was a mentally
challenged Italian fish!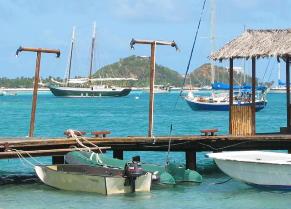 View of Clifton Harbour, Union Island

The dinghy dock at the yacht club. A very
friendly place…free dink tie-up, free garbage
disposal, book exchange. Life is good!

From Union Island to Carriacou (Carry-a-kou)…though part of the
Grenadines and only 5 miles away, it belongs to Grenada. The sky is
black with a squall is approaching. We can see the line of rain and it's
only a matter of time till we're soaked, but it's warm and the rainwater
is refreshing. Rainfall is so heavy, we can't see and have to use radar
to pick out and avoid little Jack'a'Dan Island. It clears as we head into
the anchorage. Up with the "Q" flag; we'll clear into Customs later.

Want to visit
Carriacou and Grenada with us? Just click here.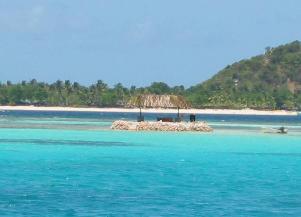 A tiny nearby island had a thatch hut on it and
you could dinghy or swim up and have a rum
punch or even some chicken BBQ.

or you can jump ship and...